Ligier JS11, 1979
History of the actual car
This model built in 1991 represents the car that was raced with some success during the 1979 season by Jacques Laffite and Patrick Depailler. Laffite won the two early South American Grands Prix and thereafter only scored on occasion reasonably well (second and third places), otherwise not placing in half the races. Depailler's point-scoring rate was higher in the first half of the season, also winning in Spain at Jarama, however a hang -gliding accident meant he couldn't contribute in the second half of the season, Jacky Ickx deputising, but only scoring there points in the eight races from mids-season (France) onward. Nevertheless, Ligier was able to score sufficient points to secure third place in the 1979 Constructors' Championship. The car was strong, good looking and had some excellent ground-effect credentials, proving itself with potential during 1979.
This was to lead to a more successful car for 1980 (JS11/15) which was even better looking and had such promise regarding overall speed and performance, but more strong finishes were denied by mishaps such as failing wheel rims, engine failures, occasional crashes etc. During that second year, they won two Grands Prix and also managed to achieve second place in the 1980 Constructors Championship, the driver pairing of Jacques Laffite and Didier Pironi winning many hearts.
Images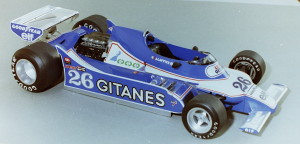 The Model
Heller produced a nice looking model of the 1979 car which was a must-have because of what it represented in terms of a good-looking well performing car with some spectacular results at times. However, the kit on close inspection was quite difficult to put together in that it was very fragile and had such substandard parts when compared to a Tamiya model. The bodywork was good and this really 'made' the model, although the roll-over bar was a poor excuse (the apex of which was moulded as a single part to be glued onto the bodywork, rather than a full-item mounted to the monocoque within and below the bodywork over the fuel tank). After that, it became worse the more you looked into it and tried to build the model. The engine and gearbox appeared to be very substandard versions of that seen in a Tamiya kit. The tyres were solid plastic in my example and looked good, however one had to air brush them well to achieve a realistic final appearance. Once built, it had no strength and in trying to superdetail the side pod contents, such rigidity as it had was further reduced. Eventually, my JS11 model fell to pieces literally partly due to my keenness to use only enough glue, a good policy I feel.
The model, now exists as a complete, fragmented series of subassemblies ready for re-build, which it would justify. I purchased a second model some years ago, in order to modify into the charismatic 1980 JS11/15 and the only difference was the horrendous tyres on offer, which were rubber and of ultra-disappointing appearance when compared to a Tamiya equivalent.
My original JS11 was super-detailed interms of Goodridge hoses, large numbers of Tamiya engine parts to supplement the Heller disappointment, a new brass rod-formed roll over bar and rearward support stays, brake lines, water hoses and jubilee clips, attention to painting detail to replace part of the extensive decals supplied etc.
I have kept this dilapidated model because it has great potential and a conversion to the JS11/15 is possible for the second kit I have in store. I have no digital photos of the model and so it is either a case of scanning in prints or reconstructing the wreck and re-photographing it – the latter may be easier because it is a good quality 'wreck'.