Honda RA272, 1965
History of the actual car
Well publicised first win for Honda in Formula One came with Richie Ginther in the RA272 in 1965, the car with the transverse V12 1.5 litre engine. This first victory was in Mexico City at high altitude and was the last of the 1.5 litre formula. The car driven by Americans Ronnie Bucknum and Richie Ginther in 1965 contested a total of eight Grands Prix that year, Ginther winning in Mexico and Bucknum's best placing also at Mexico, placing fifth. Otherwise only two sixth places were achieved and the car remains an interesting engineering approach to maintaining some degree of competitiveness in the 1.5 litre equivalency, when considering both its extreme multi-cylinder and transverse application. The engine was supported in a tubular frame making this a semi-monocoque car. The car appeared famously at the Goodwood Festival of Speed in 2004.
Images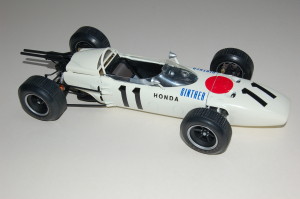 The Model
This model, is not my own, but Tamiya's 1995 diecast RA272 in 1/12 and because it is a 'must' and I was fortunate to be able to obtain one, I have included it here merely for completeness, rather than for detailed discussion. The model is good, but lacks fine detail in some areas of the rear drive train in particular. The engine and removable engine cover are excellent, as is the cockpit and overall appearance. It is a shame the nosecone appears slightly loose but is not detachable. It is features such as this that have inspired some to have considered taking it apart and re-buildling certain aspects of it. Unless done very well, this may be a disappointing mistake.
My purpose for owning it, is simply because it exists and also because it would sit well with a RA273 and RA300 following on, therefore enjoying the evolution of an important marque.